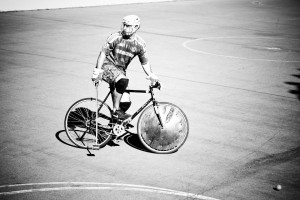 It's interesting writing something about bike polo, posting it on Facebook, and then going home to New Jersey for the holidays and having to explain why you enjoy inflicting so much pain on yourself to family members who barely know that you play bike polo.  And the one thing that is arguably more absurd than playing bike polo is spending time writing about it.
For the record bike polo is not that dangerous if you don't want it to be. I might have given the wrong impression in my last post. Once you're a proficient bike handler, you can avoid crashing or even dabbing pretty easily as long as you put safety first. Of course, in competition, we will compromise our own safety (and that of others) for the sake of winning. And even if you always take the safe road you still risk getting ninja balled or slipping on court debris from time to time. Or getting gooned out by some tattooed beardo with daddy issues. But for the most part you can make bike polo pretty easy on yourself if you want. Add a nice face mask and some pads and your risk of injury goes pretty far down.
Will you still get hurt? Yeah, but you can break your bones playing tennis, too. Or skiing. Or just slipping on the sidewalk. Better to stay on the couch playing video games, but then you'll just die of heart failure, na'mean?
Still it's salty to get hurt doing something silly. No one is paying us to play, after all. And bike polo is pretty silly in the scheme of things.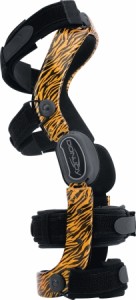 Speaking of doing something dangerous for no pay, I was watching a lot of college football over the holiday. I noticed almost all the linemen on the top teams are wearing custom DonJoy knee braces painted to match the school colors. A lot of wrist guards too. We need to get bike polo represented in the NCAA. Fuck, BBP's court in Allston is right in the shadow of Harvard's football stadium and we can't get a fucking cent of that endowment loot? Gotta be kidding me.
The root of the word amateur is the Latin for lover. He who does a thing for the love of it. Here at BBP we decided as a club to retire the term "pro". It had come to stand for too much perhaps. The distinction between the top players and the rest. Created tensions between veterans and rookies. Every rigged mallet shuffle became a slight to one pro or another. Pro night is for pros only. Get a pro bike. Go pro. $60 mallets, etc.
It was about time we stopped pretending to be pros. We are a bunch of sorry amateurs. That's fine though. All are welcome to join us.