Bike polo specific bikes are so tight. Tight in geometry, tight in the way people from California Cascadia say it, as in, "This pizza is so good, it's hella tight." There are new specs coming out every month and I, for one, welcome our new bike builder overlords.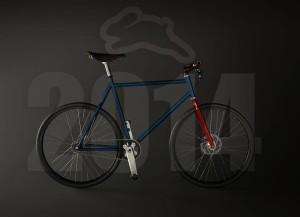 The mania started last month with the announcement of the 2014 version of the Hija de la Coneja, or as we call it colloquially in Boston, the Rabbit. Personally, I have coveted the Rabbit since Tobi got one last summer. As soon as he saddled up on his new bike, his game instantly stepped up. He dabbed less, he turned tighter, and he biked faster (although sometimes it still takes him forever to get physically onto the court). The only thing keeping me from getting a Rabbit is the cost of building brand new wheels. For some reason, switching from 700c to 26" feels like a big decision. I love the look of the bike, and at $500 for the shipped (!) frame and fork, it is a relatively low price on a huge upgrade.
In other worldly polo bike news , the European bike builder / power ranger Max Power releases some specs on his 2014 model of a 700c wheel polo bike. At €490, or approximately $665, it is a sleek aluminum alloy machine with smooth welds and pretty colors. Max Power metal was everywhere you looked at Worlds this year, and I would be interested to test ride the XL frame  to see if it can accommodate my long monkey arms. Personally I don't know too much about the bikes, but clearly they are dope because people are kickin' up the jams at tournaments riding these sexy steeds.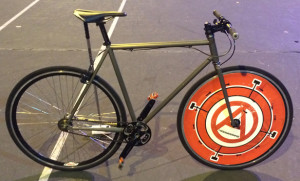 For those who want to stick with their current 700c wheel set, FBM just released the specs and geometry for the Ballista, a "new" polo specific frame that has been three years in the making. Built in America, this is the most premium local polo bike frame set your freedom-dollars can buy. Everything about this bike looks sexy, and everyone that rides one is wicked hella pro (meaning currently on blue chip polo teams). As much as I love the look of this bike and the promise of super tight polo bike geometry, I couldn't ever see myself dishing out over $750 for a frame and fork that will likely end up in pieces on the court someday. I look forward to reading a review or hearing a friend talk about this bike someday— maybe Charlie Sprinkle, since I know for sure that he threw down on the pre-order.
Rustbelt hasn't released anything "new" recently, but for those who are able to get a hold of him, Lou makes a pretty dank polo frame, called the Marco for 26" wheels. At every tournament I've ever been to, I see a frame snap at a weird place, and someone (usually Nico) yells "Should've got a Marco!" and everyone with a Marco frame laughs hysterically for an uncomfortably long time. Either way, I think Rustbelt builds a quality product in the USA, and judging by the way Redbeard rides his, the bike is built to last.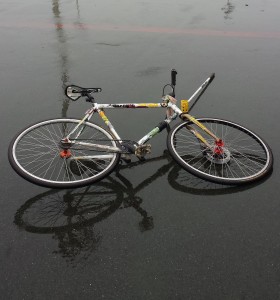 At the end of the day, there are always budget specials for kids considering new polo bikes. My Pake Rum Runner has been holding up nicely, and despite its extra weight and wonky head tube angle, you can't really beat the $180 price tag on the frame (before shipping). And despite the warnings, a large percentage of kids will always play polo on Marino and Velolocuma bikes. I've seen a lot of snapped forks on the internet, but for a serious looking polo frame I don't know how anyone could overlook the price ($350 for frame and fork).
If you know of a polo specific bike that I overlooked, or if your budget bike is better than any of the ones I listed, please let me know in the comments section! -ZS