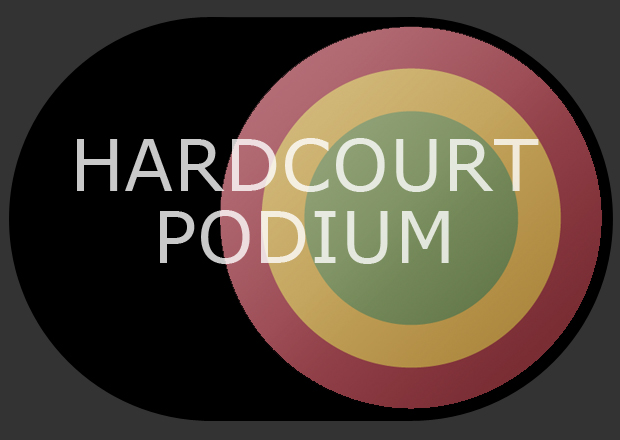 Podium, the brainchild of Portland Bike Polo's Vince Foley, is arguably the most useful technological advance in the history of the poloverse. The software has streamlined the organization 129 tournaments throughout it's history, including the past 3 World Championships (975 games collectively) and the 2013 European Hardcourt Championship, which  clocks in as the largest tournament EVER with 63 teams. The Podium interface allows tournament organizers to seamlessly queue up games while players can look on from their iPhones while fishbowling their tent on the other side of the venue in the shade.
Hardcourt Podium has started rolling out some new features for the upcoming season. Users now have the ability to register themselves to track their careers, a feature first debuted by the ill-fated www.Hardcourtbikepolo.org. Podium spit out a player's tournament history, as well as statistics associated with his or her team.  The user can easily see the statistics from their profile, which includes tournament and game totals, cumulative and average goal counts (for and against them), as well as their goal differential per game and per tournament.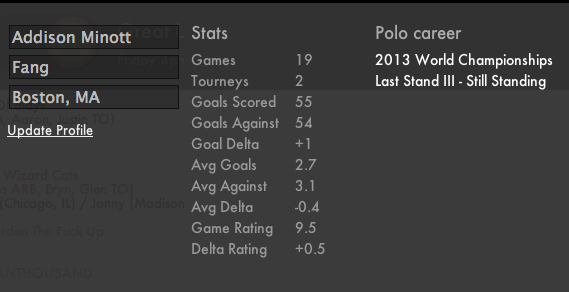 It appears as if this new user based version of Podium will be the go-to source for the 2014 NAH Tournament Season. Registration and qualification processes will likely be built into the software, further easing the load on the tournament organization front.
Up until this week, the software has been free to use. But with the new 'registration' capabilities comes a small fee. Users can pay on a sliding scale, from $2 to $20, to take advantage of the new features. Quite frankly, given all the time Vince has put into Podium, this small fee is an absolute steal. Alas, there will  be  penny-pinchers.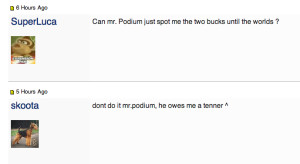 It is only a matter of time before these doubters come around and realize that the price of a pint is simply worth a fluid and interactive experience at the next tournament you attend, especially when someone finally steps up their Podium display from a big screen TV to a big screen TOUCH TV.
Thanks Vince!