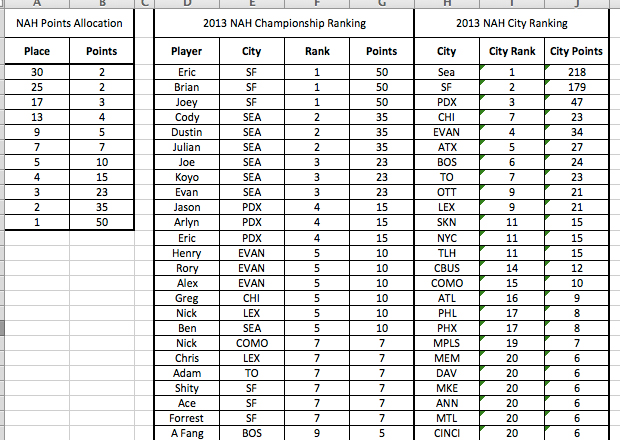 As you know, NAH announced that they will be hosting a NAH Club Bench Championship. Basically, the 12 top polo clubs in North America will be traveling to Lexington, KY this fall to find out who is the best. The catch: clubs will be invited based on their 2014 NAH Series Rankings. In each of the NAH qualifiers, and at the NAHBPC, players will earn points for their club.
For the  ranking at the NAH qualifying series players will earn the following points: 1st : 10 Points; 2nd: 7 points; 3rd: 5 points; 4th: 4 points; 5th: 3 points; 7th: 2 points; <7th 1 point.
At the NAH Championships players will earn the following points: 1st: 50 points; 2nd: 35 points; 3rd: 23 points; 4th: 15 points; 5th: 10 points; 7th: 7 points; 9th: 5 points; 13th: 4 points; 17th: 3 points, <17th: 2 points.
It may not seem like it, but 12 clubs is a lot. Obviously, clubs with teams advancing to and performing well at Nationals have the advantage. However, clubs that roll deep but don't necessarily have podium teams will squeeze smaller squads out.
The top spots will surely be taken by the historically top performing clubs, aka Cascadia: Seattle, East Van, Portland. San Fran will be a gimme because of The Beavers and that other handsome team from Cali.  But the rest are up for grabs.
I was hecka curious to see what the spread looked like, especially with big dreams for Boston's future in bench league. So I nerded out HELLA and tabulated up the stats from the 2103 qualifier. Heres what it looked like:
(Note that I accounted for a few small "changes" from the NAHBPC 2013 podium.com results: Seattle gets the commish, Chicago gets Lomax, San Francisco gets the Beavers(duh), Boston is fanged, Porch gets the rad caps 2x points bonus, Emmet doesn't count and as well as few other low point transfers from folks' relocation.)
EDIT 3-18-14 13:00: Greg Valentine has been moved from CHI to ATX. Woadie's city points go to EVAN.
2013 NAH City Ranking
City
City Rank
City Points
City Players
SEA
1
218
19
SF
2
179
10
EVAN
3
49
5
ATX
4
37
9
PDX
5
32
3
BOS
6
24
6
TO
7
23
6
OTT
8
21
6
LEX
8
21
4
SKN
10
15
3
NYC
10
15
5
TLH
10
15
6
Rad! Get top 3 and secure your club an invite. For all other clubs, it is a toss up. You  will be rewarded for bringing a whole bunch of players (Austin), for bringing only a few if they kill it (E.Van & PDX), or if you do both (Seattle). And don't forget about the sleeper clubs that couldn't make it to their qualifier last year. Either way, I'm stoked to see what the points totals will look like in 6 months from now.
If you're interested, please help contribute so we can get a full season of stats by adding your regional qualifier using the attached spreadsheet. Just replace the proper existing cells with your results, and you can send it back to me [aminott(at)gmail.com]. I'll keep the updated tallys attached to this post.
EDIT 3-18-14 13:00: CASCADIA Quals has been added. I will update cumulative totals once all qualifiers are tabulatedClick for excel spreadsheet