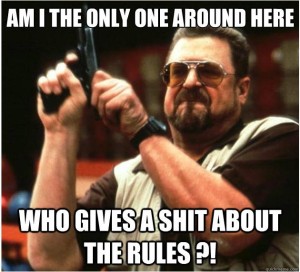 For fuck's sake, follow the rules of bike polo. The rules are there to keep you safe (you fucking goon), and they are there to protect your disgusting body and your piece-of-shit bike and your expensive polo gear. The truly beautiful thing about our sport is that there are so few rules in the first place. I recently read something I really liked on League of Bike Polo:  every new sport is advanced in the space between the rules, and that strategic advancement is not dictated by the rules themselves. For example, with the development of bike polo specific equipment, such as mallet heads that enhance scooping ability and frames that center your weight more appropriately for hopping and pivot turning, we are each individually granted the new tactics, and those tactics give us exponentially more choices to make as a team on the court. And that's a beautiful thing if you ask me.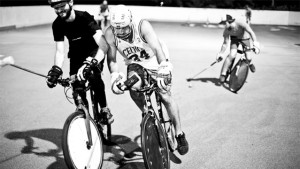 Now, I realize that not everyone shares my peachy idealistic view of the rules. Some kids want to be Spartan renegades and play by their own rules, and I have been trying my best to appreciate that position. I understand that everyone interprets "the rules" differently, specifically the definitions for high sticking, slashing, and off-ball contact. Some kids want to play exclusively by our golden rule of polo, Don't Be A Dick. But can't you see how this reductionist point of view leads to less of a grey area and more of a black hole? If there are enough kids on the court playing by different definitions of a slash or hack, aggression will escalate wicked quick. Retaliatory strikes (guilty of these myself) are arguably even more egregious than offending actions such as slashing, because they are motivated by vengeance and anger, and are way more likely to cause accidents. Also, that's like totally the definition of being a dick, and we all JUST agreed that we shouldn't be dicks like thirty seconds ago.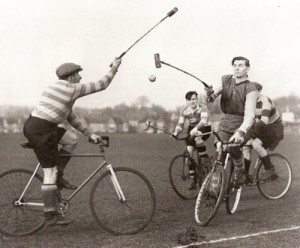 I want to take a moment and recognize the work Nick Kruse is putting into updating the rules. He recently showed me a few of his updates, and his language is so clear and his writing is so effective that I swear I saw a flock of doves fly out of his laptop's screen. But what do we do when we have a disagreement about the rules at pickup? Shouldn't the rules be more flexible (i.e. allowing wrist shots, throwing your mallet at the ball) since there are beginners present and we're all just drinking and having fun? I suggested to our club that we use the most current version of NAH rules and regulations at pickup, but only to enforce turnovers. That way, we have good habits on the court when traveling to other cities for tournaments. You might argue that strictly reffing and enforcing turnovers during pickup games takes away the inherent punk-rock nature that is essential to the spirit of bike polo. To that, I say you are dead fucking wrong, kiddo. We all have lives outside of bike polo, even if we don't want to admit it; we can't go around breaking each others' bones and sporting black eyes to the office— I'm not sixteen anymore. I know that taking hits and falls is part of the game, I know that the smart thing to do is wear pads and a face cage, because accidents (that is to say, accidents caused by Tobi) happen. But should I dress like a NFL linebacker just to play a pickup game of bike polo? I have responsibilities as a human being— I have cats to feed, man!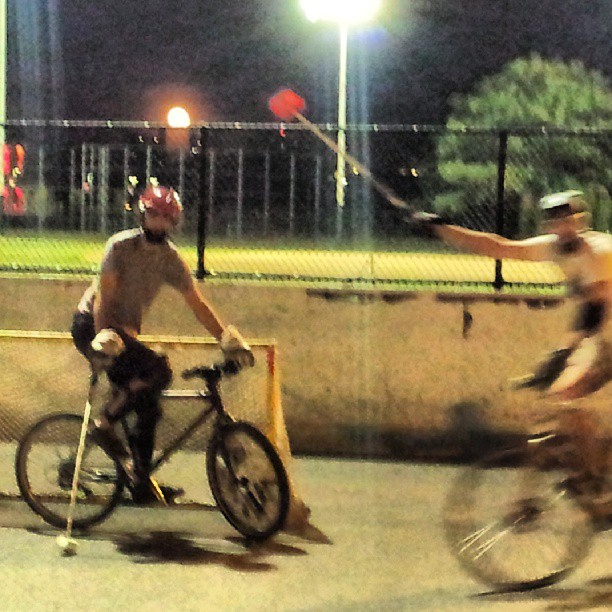 Let me reframe my argument: I don't particularly care if people break the rules. It doesn't make me cry and it doesn't make me cum, I am completely indifferent to it. Really, I just want to play polo, and if you break the rules and endanger my well-being, frankly that's ok because I should have expected it— bike polo is dangerous. However, there is a line that any reasonable person should not cross, and it is an admittedly fuzzy line. How do you quantify the aggression in Lomax's wild swing? If Zach Blackburn elbows you in the chest while you're playing goal, how aggressively can you protect yourself? I don't have the answers to these questions. I only hope that we can get back to what the game is truly about, in my opinion, which is mallet skill and speed. Picks and hits have a place in bike polo, but slamming on your friends' steering arms and knocking them off their bikes seems unnecessarily barbaric. As Bill and Ted once said on their excellent adventure, "Be excellent to each another, and party on, dudes!" -ZS